b a s i c s
Name: faryn ehterton
Age:17
Location: 29 palms california
Sex: female
f a v o u r i te s
Food: hmm..i like all food mostly ice cream, but if that doesnt count then i like...anyhthing mexican
Movies: A walk to remember, The notebook, Titanic, To kill a mocking bird, Peter pan.
Tv Show: that 70s show, arthur,
Cartoon: can i put fav cartoon character? cuz if thats ok, its betty boop, my whole room use to be betty boop, but since i moved i havent had time to put new pics up
Music: taking back sunday, The used, senses fail, garbage, bright eyes
Animal: pigs all the way
Thing to do: i love to read, hang out with my bf and his freinds, i like swimming and running
o p i n i o n s
Animal Abuse: I dont think thats right, especially cuz they cant defend themselves, and even if they could defend themselvs its still not right :(
Under-age drinking: i cant really say anything about that, i dont, i dont drink anymore
Body Piercings and tatoos: i love people who have piercings and tattos, only cuz i grew up with them, my dads best freidns does tats, i do have my ears guaged tho.

Give us a reason why you should join:i'm a fun loving person, im good listener, i care about ppl and they're feelings, i dont judge ppl, and i dont believe in uglyness or prettiness, i dont liek ppl who are racist, i'm a cry baby i cry trough every movie i ever watch...hahah...
if you have any questions jsut ask
Post at least two-six pictures of yourself: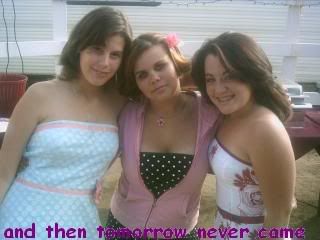 im in the middle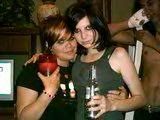 me and my best friend tammy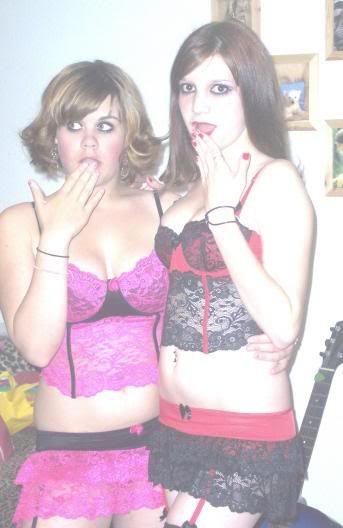 me and tamy before we went to rocky.
Please promote to a community and/or lj user please give url:
http://www.livejournal.com/users/kissesorlies/2809.html?mode=reply